In the early days of the bicycle, from the 1870s to the 1890s, Ripley became the 'Mecca of all good cyclists' as Lord Bury put it in 1884 and the road thither was the 'Most Famous Cycling Highway in the World'. Cyclists flocked here in their thousands as shown by their signatures in the Anchor Cyclists Visitors Books kept by landlady Annie Dibble from 1881 to 1895, most of which, either the original volumes or photo-copies, are now in the Surrey History Centre in Woking. Interest centred in and around the Anchor. The Rev'd Henry Hooper, Vicar of Ripley, was perhaps not too happy at people having a high old time on a Sunday but he nonetheless entered into the spirit of the thing and provided special services for the cyclists which were remarkably well-attended, although some back-sliders were said to prefer a 'post-prandial pipe in the Anchor'.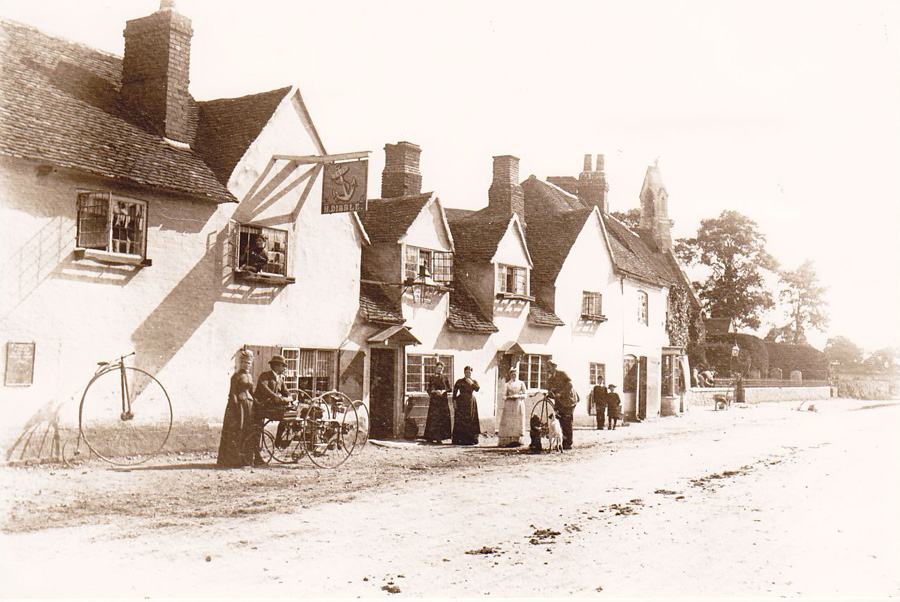 When the then Southern Veteran-Cycle Club was founded in 1955 its first meeting was naturally at Ripley, as was the start of their first big ride on veteran machines – from Ripley to Hyde Park. This year is the Club's 60th anniversary and, to celebrate the fact, its Ripley Section on Sunday, 24th May, organised on behalf of the club a re-enactment of the cyclists' church service and lunch at the Anchor.
Some two dozen participants, one from as far away as Newcastle, and most in an approximation of the cycling costume of the time, met at Send Marsh Green and rode over part of the Olympic Road Race course to look at the remarkable bishop's consecration crosses and medieval wall-paintings in Pyrford church. At St Mary's, Ripley, the church ladies kindly provided refreshments and the Rev'd Chris Elson invited the participants, with representative machines, into the church itself for a special cyclists' service as his predecessor had done in late Victorian times. After admiring the cyclists' memorials in the church the riders, whose machines included two high bicycles ("penny-farthings") and a pair of high-wheel tricycles, then took to the road again for a gentle ride along quiet lanes south of the main road. At 3 o'clock they returned to Ripley for a traditional lunch at the famous Anchor Inn enlivened by readings from cycling periodicals of the time mentioning the Anchor.