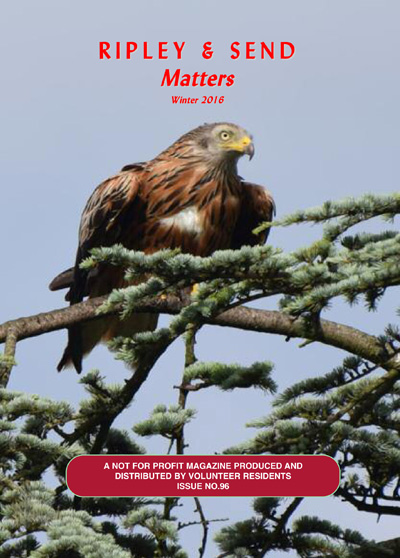 The Winter 2016 edition covers past events in September, October and November 2016 and future ones, primarily those in December 2016 and January and February 2017.
It contains the usual Parish Council and Church news for Send and Ripley together with articles on Christmas Robin, Send Help, Villages Medical Centre, Ripley Village Hall, Ripley Farmers' Market, Rotary Collections, Bowling Club Opening, Ripley Panto,  Send Amateur Dramatics (SADS), Down your Wey, Send and Ripley History Society, Send Primary School, Blue Plaque Unveiling, Ripley and Send Matters Celebration, Papercourt Sailing Club, the local Horticultural and Gardening Societies, Send Cemetery Extension, Ripley and Send Over 60s, Guildford Fuchsia Group, Elmbridge Model Club, Local WIs, Send Village Club,  Dunsborough Park Flowers,  Diary of Events for each village, and more, including many pictures of local events.
A large number of the pictures from this issue of the magazine can be seen by clicking here.
An article on the changes to the Abelio Bus Service through Ripley failed to make it into this issue. Briefly the Abelio 515 service from Guildford to Kingston is to be replaced with the 715 run by Stagecoach, with a slightly amended route. This change is effective from 1st January 2017. To see details of the changes to Abelio Services see Surrey County Council's page or a PDF copy of it.
Since publication of this issue Highways England has announced that it is starting consulting on improvements planned for the A3/M25 Junction 10 interchange. The Ripley Grapevine has published a letter from Highways England that includes details of the consultation and public exhibitions they are holding. The first one is on Monday 5th December in the Ripley Village Hall from 3pm to 7:30pm.  Click here to read a PDF of the Letter from Highways England as published by the Ripley Grapevine.  Much more information is available on the Highways England website.
If you didn't get a copy of the magazine and would like one please use our contact form to request one.