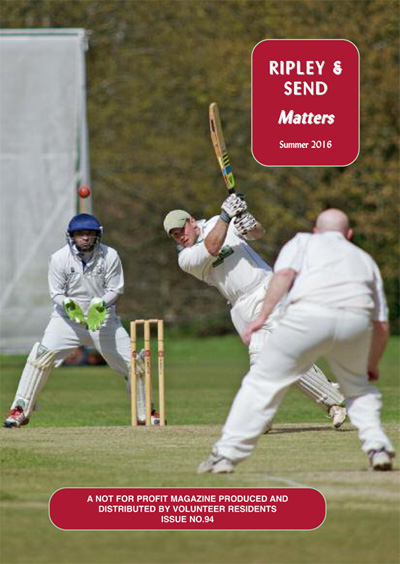 The Summer 2016 edition covers past events in March, April and May 2016 and future ones, primarily those in June, July and August 2016.
It contains the usual Parish Council and Church news for Send and Ripley together with articles on Picnics on Ripley Green, Villages Medical Centre, Rotary Club,  Ripley Bake Off, Ripley Event, Wisley Airfield, Send Amateur Dramatics (SADS), Down your Wey, Ripley C of E School, Send Schools, Clean for the Queen, Ripley Rocks, Lilliput Garden, Send Help, Ripley Good Neighbours, Dunsborough Park openings, History Society, the local Horticultural and Gardening Societies, Send Village Club,  Guildford Fuchsia Group, Rilpey and Send Over 60s, Local WIs, Neighbourhood Angels, Diary of Events for each village, and more, including pictures of the Send Scouts May Fair, Ripley Farmer's Market and the Winners of the Mayor's Award.
Unfortunately details of the upcoming Ride London/Surrey Event on Sunday 31st July did not make it into this issue. However you can find some information on the events pages of this website and at http://www.prudentialridelondon.co.uk/
If you didn't get a copy of the magazine and would like one please use our contact form to request one.