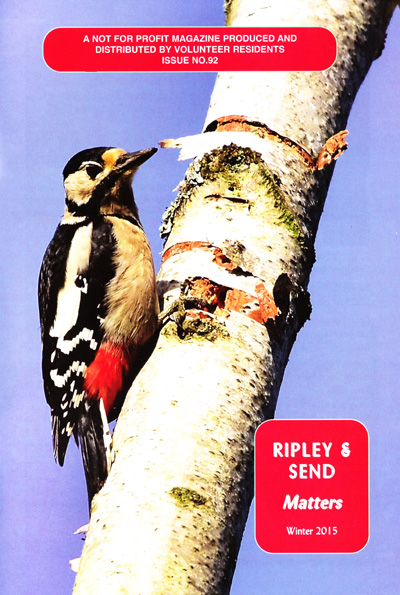 The Winter 2015 edition covers past events from September to November 2015 and future ones, primarily those in December 2015 and January and February 2016. It contains the usual Parish Council and Church news for Send and Ripley together with articles on the Villages Medical Centre,  SADS Panto, Rotary Club and Father Christmas, Down your Wey, History Society, Papercourt Sailing Club, Sailathon in aid of Guide Dogs, Ripley Panto, Lancaster Hall Exhibition, Sid Stanley, Lunar Eclipse, Send Help, Smith Charity, Farmers' Market, Dunsborough Park, the local Horticultural and Gardening Societies, WI Centenary Celebrations, Guildford Fuchsia Group, Diary of Events for each village, and more., including pictures of the bonfires and remembrance services in both villages.
You can see more pictures of the Lancater Hall Exhibition by clicking here.
See the Ripley Good Neighbours Christmas Poster and a picture of the display in Lloyds Chemists by clicking here.