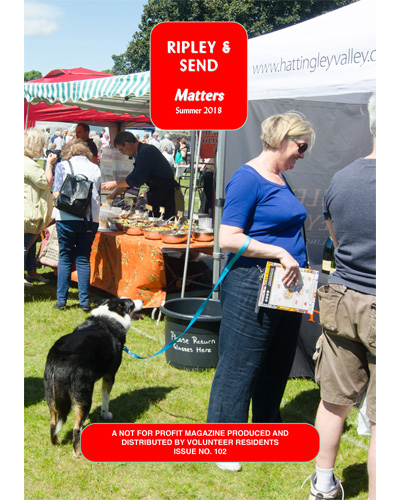 The Summer 2018 edition covers past events in March, April and May 2018, and future ones, primarily those in June, July and August 2018.
It contains the usual Parish Council and Church news for Send and Ripley together with articles on Villages Medical Centre, Ripley Farmers' Market, Ripley Village Hall, Ripley Village Event, Ripley Primary School and its possible closure, Send and Ripley History Society and Museum, Send United Football Club, Send Poppy Project, Ripley Rocks, Down Your Wey,  Ripley Bowling Club, Send Help, Ride London/Surrey, Ripley Good Neighbours, Ripley Neighbourhood Plan, Ripley Village Hall, Ripley & Send Rotary Club,  the local Horticultural and Gardening Societies, Dunsborough Park, Restart a Heart Day, Send School Governors, Guildford Fuchsia Group, Ripley and Send Over 60s,  Local WIs, Concorde Cricket Club,  Diary of Events for each village, and more, including many pictures of local events.
A large number of the pictures from this issue of the magazine can be seen by clicking here.
The article from Colin Cross regarding the Closure of Ripley C of E Primary School can be found by clicking here.
One of the pictures of Send United Football Club was unfortunately not prinetd properly in the magazine. You can see it on the pictures page by clicking here or goto it directly by clicking here.
If you didn't get a copy of the magazine and would like one please use our contact form to request one.