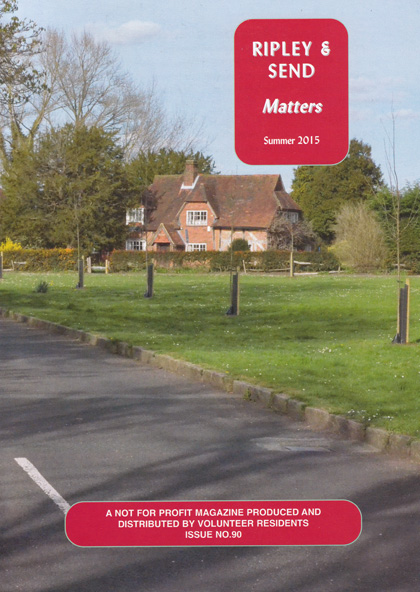 The Summer 2015 edition covers past events from March to May 2015 and future ones, primarily those in June, July and August 2015. It contains the usual Parish Council and Church news for Send and Ripley together with articles on the May Election Results, Ripley Village Hall, Villages Medical Centre, Retirements, Ripley Primary School, Ripley Event, SADS, History Society, Down your Wey, Ripley Rocks, Papercourt Sailing Club, Ripley Bonfire Anniversary Celebrations, Bus Shelters, Rotary Club,  Send Marsh Green trees, Send Village Club, Farmers' Market, the local Horticultural and Gardening Societies, Ride London/Surrey Cycle event, a Diary of Events for each village,  pictures of Send May Fair and more.
There were seven recipents of the Mayor's Award for Service in the Community.  Freda Spickett:  for helping at Ripley Primary School with the children's reading, John Slatford: for his work with the Send and Ripley History Society, detailed research etc., Diana Cox: for her work with the Mums and Toddlers Group set up at Ripley Church, Jackie Strange:  for all her numerous works with the Over 60's, Good Neighbours and the magazine and previous work with the Guides, Valerie Jenner: for the magazine, Howard Turner: for his work with Send Parish Council, and Mark Clover: for his work with the Parish Council and helping with the Christmas lights etc.
Clarification: The History Society visit to Shere is on Thursday 16th July (as per their article) not Wednesday 16th July (as per the Diary of Events) and it does include a pub lunch.
Correction: The name of Brian Stalley's guide dog who retired in April is Justin, not Jason. We offer our sincere apologies to Brian for this unfortunate mistake and for any distress caused .
The Send Neighbourhood Plan Event shown in the Diary of Events on Saturday 20th June in Lancaster Hall has been postponed until the Autumn due to unforseen circumstances. The new date will be publicised as soon as possible – please watch out for it.
The History Society's latest exhibition at Ripley Museum is entitled The Homefront. It is about Send and Ripley during the Second World War. It includes a little bomb shelter adjoining the museum which children (and small adults) can climb inside and imagine what it might have been like to wait out a night of bombing. The exhibition is open every Saturday morning until September 12th. See the The Ripley Museum Homefront Flyer