This article was not able to be included in Issue 87, Autumn 2014, because of lack of space. Charles Hughesdon was very much a local "character" until he moved in 1994 and the helicopters were something that all the Ripley residents looked for in the summer, so it appropriate to include it, somewhat belatedly, here. Note that much of the following tribute is taken from his obituary in The Daily Telegraph on 9th May 2014.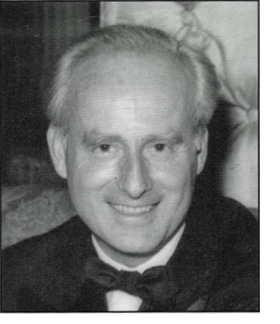 Charles Hughesdon, 1909 – 2014
John Slatford
Charles Hughesdon, who lived at Dunsborough Park from 1948 until 1994, died recently at the age of 104. He had a remarkable life and has been variously described as a daredevil amorous aviator, champion ballroom dancer, insurance broker and airline executive who married the film star Florence Desmond and boasted of long affairs with Shirley Bassey and Margot Fonteyn among others.
In the mid-1930s he was an aspiring young insurance salesman and it was in insurance, particularly in the airline industry, that his lifetime career continued. At the same time he learned to fly, soon became a flying instructor and gained a commercial pilot's licence. From then on, flying and airline insurance became the major parts of his life. Before the last war he took part in various flying races including the 1936 Schlesinger South Africa Air race where he and his partner crash-landed by Lake Tanganyika and were lucky to survive. During the war he served in the RAF working mainly as a test pilot but also in long distance transport. He was awarded the Air Force Cross.
After WW II, his insurance career resumed and he became a leading figure in the airline insurance industry. Such was his involvement with airlines that in the 1970s he became owner of a cargo airline, Tradewinds Airways, for a few years. He continued flying himself and eventually converted to fly his own helicopter. All through the 1960s and early 70s, his helicopter parties at Dunsborough were a well-known annual event.
He married Florence Desmond in 1937 and they had various homes before coming to Dunsborough in 1948. After losing a child through miscarriage, their only child Michael was adopted. They became renowned for their hospitality and the lists of celebrities from show business, film, politics and business who visited seem endless.
On arrival at Dunsborough, Charles was the owner of 90 acres of land. At one time, before he finally sold his property in 1994, this had grown to some 1250 acres. After the death of Florence or Dessie as she was known, Charles married their long-time friend Carol Havers, the widow of Lord Francis Havers, sometime Attorney General and Lord Chancellor in the Thatcher government, and mother of the actor Nigel Havers. After his marriage, Charles sold Dunsborough and moved to Berkshire thus severing his connections with Ripley after some 46 years.