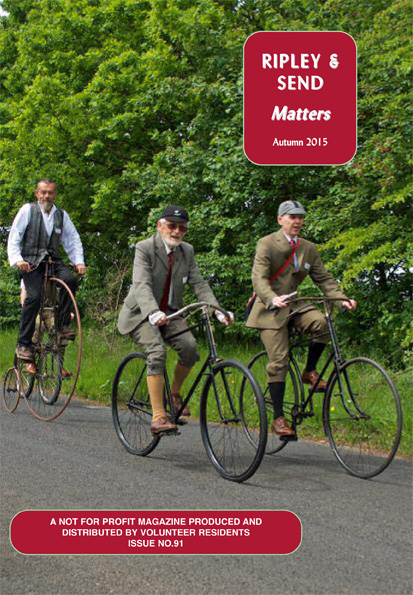 The Autumn 2015 edition covers past events from June to August 2015 and future ones, primarily those in September, October and November 2015. It contains the usual Parish Council and Church news for Send and Ripley together with articles on the Villages Medical Centre, Ripley Primary School, Send and Lovelace Neighbourhood Plans, Ripley Rocks, Down your Wey, Ripley Christmas Fair, Ripley Bonfire, West Surrey Natural History Society, Farmers' Market, Brian Stalley & Rosie, Send Help, History Society, Dr Burns' Retirement, Dunsborough Park, Send Village Club, the local Horticultural and Gardening Societies, a Diary of Events for each village, and more.
An article about the cycle event featured on the cover can be found by clicking here.
The Ripley Event was again very successful this year. Unfortunately the chairman of the event committee has had to retire and so a new chairman is needed. Please read all about this year's event by clicking here and then put yourself forward to ensure that this important event takes place again next year.

A poster advertising the "Images of Send and Ripley" event being held in Lancaster Hall on 3rd & 4th October can be seen by clicking here.